FLOAT N' FLAG TRAVEL
DIVE INTO ADVENTURE
Book your Next Dive Adventure with US!
We organize group and individual scuba/snorkel/land-based vacations to top rated and bucket-list destinations all over the globe.
Group trips are lead by one of our certified PADI professionals to ensure a safe, enjoyable and memorable experience. They are also equipped to offer any onsite training or instruction if needed.
JUST PACK YOUR BAGS & ENJOY! Space is sometimes limited, so reserve your spot today. Book online or come see us in-person to assist or answer any questions.
YOUR DREAM VACATION AWAITS.
DON'T SEE A DESTINATION YOU WANT?


Don't be afraid to ask! We can also work with you to arrange individual travel to destinations of choice.
We are a full-service Travel Agency (including travel insurance from Manulife).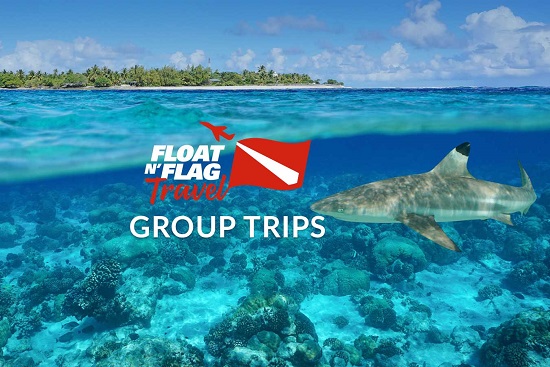 YOU CAN VIEW OUR GROUP TRIPS HERE
or select one of the links to take you directly to the details. More details are being updated weekly.
Sept 11 – 18, 2021 Newfoundland – Details 
October 30-November 8, 2021 Galapagos – Details
December 4-11, 2021 – Belize Liveaboard – Details
April 9-15  2022 – Bahamas aboard the Juliet Vessel
May 21 – June 4th, 2022 – Fiji – Details
June 25 – July 2, 2022 Newfoundland – Details 
Sept 29 – Oct 6, 2022 Arenui Liveaboard to Komodo (Also the option of Bali add-on diving)
Oct 23 – 29, 2022 Saba
Nov 20 – 26, 2022 Curacao
Feb (dates TBD) 2023 – Mexico Cenotes
March (dates TBD) 2023 – Maldives
September (dates TBD) 2023 – Guadalupe (Great Whites)
Oct (dates TBD), 2023 Saba
Nov (dates TBD), 2023 Cayman Islands
April 8-14, 2024 Arenui Liveaboard to the Forgotten Islands (Also land-based Bali trip)
Join us on an amazing group trip
Once you travel with us once, you will see why we have many repeat travelers!
INDIVIDUAL TRAVEL – Snorkeling/Scuba plus Land-based trips – we do it all!
Can't join us on a Group Trip? Want a special trip? We can help! With a team that has over 50 years of experience in Travel (of all kinds), we can help you. Please fill out the form below and we can quote on a trip for you. We book your trip like how we like to travel. That is the Float N' Flag difference!
LET US HELP YOU PLAN YOUR HOLIDAY
Your Dream Vacation Awaits!