Grenada
FEBRUARY 13 – FEBRUARY 20, 2020
%-m
Months
:
%-n
Days
:
%-M
Minutes
: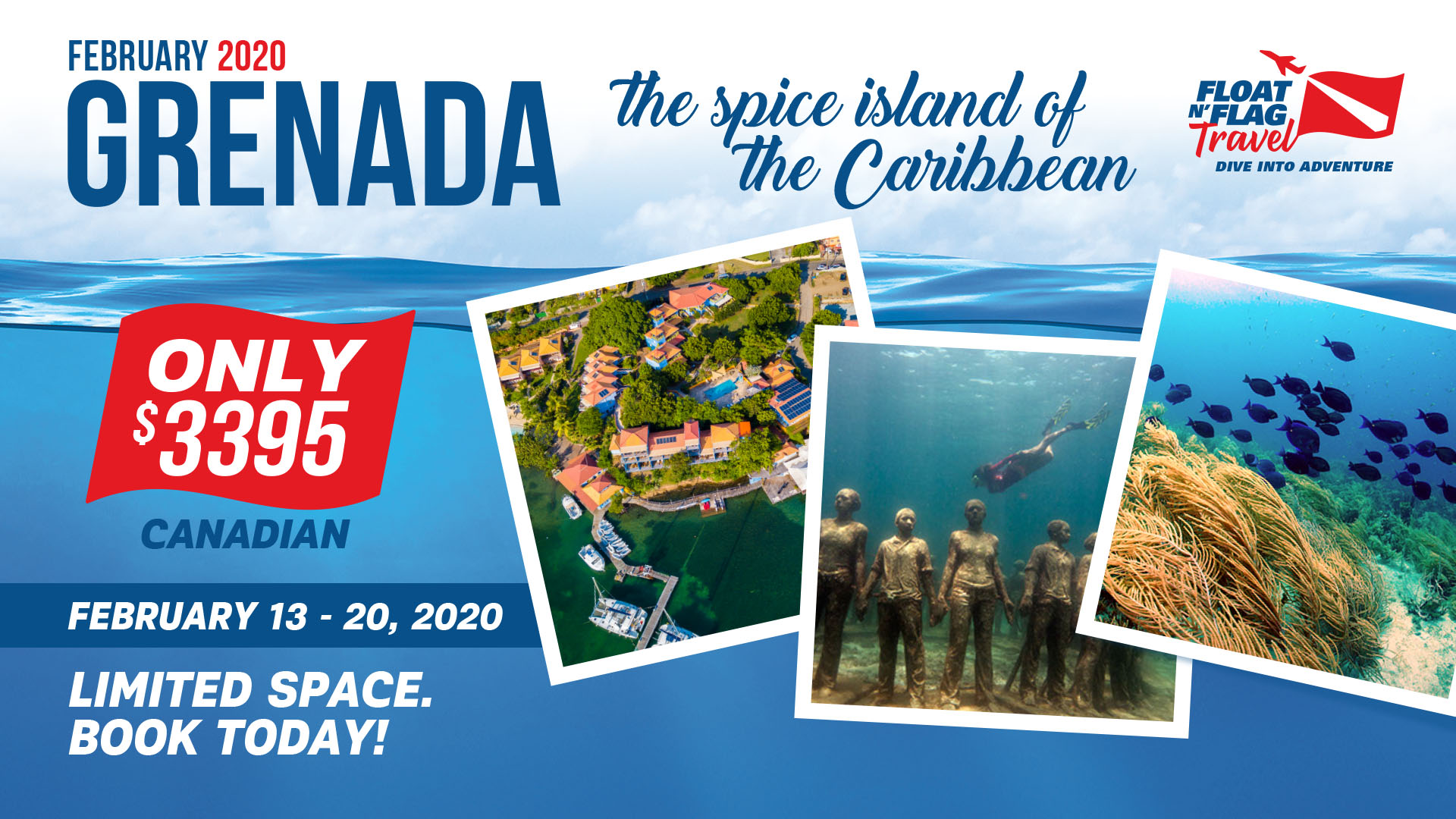 TRUE BLUE BAY BOUTIQUE RESORT & AQUANAUTS
Dive into Grenada, the Wreck Capital of the Caribbean is a year round destination due to its southern location. Offering 17+ coral covered wrecks; including the Bianca C. If you're a reef lover, Grenada also has 30 pristine reefs of all sorts. Dive sites are approximately 5-35 minutes from the dock.
Discover the island's delicious cuisine, fragrant spices, award winning chocolate and strong yet aromatic rum. Grenada possesses a rich diversity of life above and below the surface.
Grenada, the Spice Island of the Caribbean, is situated south of the hurricane belt, which makes it a year round destination. The island boast silky stretches of white sand beaches, sunken treasures full of marine life, stunning and off the beaten path
landscapes and plenty of life changing adventures.
PACKAGE INCLUDES
Roundtrip Airfare: Toronto
7 nights deluxe accommodations (double occupancy)
Daily Buffet Breakfast
5 Days of 2-Tank morning boat dives days
Free Nitrox(30%)
Marine Park Fees
All hotel taxes & service charges
Hotel amenities include, SPA, Yoga Studio, Fitness Center & Free Wi-Fi
PRICING
Double Occupancy Accommodation, Diving & Airfare
$3395 CDN
Upgrade to waterfront Suite (subject to availability)
Upgrade to 4 person Villa ($140 CDN PP based on Quad Occupancy)
$560 CDN per person
Non-diver/Snorkeler
$2695 CDN
ADDITIONAL COSTS: Alcoholic drinks, meals after breakfast, gratuities, dive gear, spa treatments. Food & Beverage package is available for US$70/day. Additional dives available for purchase. Snorkel boat trips also available ($62 CDN).
DEPOSIT: $1750 CDN per person non-refundable at time of booking. Final payment  ($1645) due December 1, 2019
CANCELLATION: Refer to specific terms and conditions.
TRAVEL INSURANCE: Cancellations insurance and out of province medical insurance are available as an option.
DOCUMENTATION: Passengers require a Canadian passport with 6 months.