That's right—it's time to start figuring out your reading week plans. While reading week is a great time to relax and de-stress, it's also an opportunity to push yourself to see new places and experience the stunning beauty that the world has to offer. If you love adventure that means you need a reading week getaway that will help you recharge and reinvigorate you.
Curaçao's beautiful beaches, bright coral reefs and relaxing nature getaways are the perfect balance of relaxing wellness retreat and exciting scuba diving adventure. Use your reading week to see the amazing things awaiting you in paradise. You can explore the world in ways that few others get to by scuba diving, so be daring this reading week go on a unique diving trip adventure that feels like a dream come true.
Relax and destress
When you spend so much time of the year in the classroom working hard it's important to focus on putting your mental and physical wellness first with the time that reading week offers. There are fewer things more relaxing and refreshing than a beautiful environment. Curaçao is a paradise-like island and is especially stunning when you venture off the beaten path. Oasis Coral Estate is a hidden gem on a beautiful and pristine beach-front property surrounded by a nature reserve with a flamingo lake (that can be explored on walking trails). You can soak in the beautiful surroundings whether you're on the beach, the rooftop terrace or exploring around the property.
Beyond the beautiful surroundings it's easy to relax in Curaçao. The Oasis Coral Estate offers an award-winning spa and wellness centre to help you unwind with facilities and treatments to suit everyone. The Estate is also very close to the island's best dive sites.
Dive into adventure
Curaçao diving sites offer breathtaking coral that makes you feel like you're entering and exploring a whole new world—offering a truly unique experience. The island has stunning reefs, walls and sunken ships, including the Playa Kaliki (a mushroom-shaped coral formation forest, admired for its Alice in Wonderland appearance) and Watamula (an overwhelmingly beautiful dive spot offering tunnels as well as a garden of waving sea fans and gorgonians).
One of Float N' Flag Owners and Master Scuba Diver Trainer Tammy Snyder had her first dive in Curaçao in 2008 and was blown away by the coral. "I was just kind of in awe with all the colour—just the health of the reefs. Every dive is different," she says.
You're going to want to make sure that you have lots of time to admire the sea-floor at the Curaçao dive sites. "We like to dive nice and slow because then you get to see all the communities. … it feels a lot like you're diving through an aquarium," says Snyder.
The stunning coral isn't just limited to deep-water dives. Curaçao's accessible dive sites makes it easy to take in the beautiful and vibrant colours of the reefs whether you're on a boat dive or shore diving on the estate, so you can dive as much as you want whenever you want. The location is even snorkel friendly making it easy for the entire family to see the beautiful under-water world.
Make memories with sea life
Curaçao offers divers the opportunity to get up close with sea-life. It is a bio-diverse area year-round and makes for unforgettable memories. Pilot whales, dolphins, rays and turtles are common and scuba diving among them makes for a thrilling Curaçao diving experience. "Sometimes when you're on your surface interval or you're at the hotel the little bottlenose dolphins will be zipping around and then you get excited about seeing them underwater," says Snyder.
The sea creatures make for endless beautiful photos and videos to take home with you. While diving around the island you can also spot endless colourful reef fish, barracudas, seahorses, octopi, frogfish, mantis shrimps, nurse sharks and lobsters, as well as morays and anemones.
Start packing
This reading week is a chance for you to go on a rare adventure with thrilling stories and other-worldly photos of you scuba diving in coral reefs! While you could stay home or go on the same vacation everyone else is going on, why not go on a unique Curaçao diving adventure that leaves you refreshed and re-invigorated? Come home refreshed and ready to face life with new eyes!
Book now for the trip of a lifetime! If you book before Nov. 25, 2018 you'll receive a free room upgrade, plus unlimited Nitrox.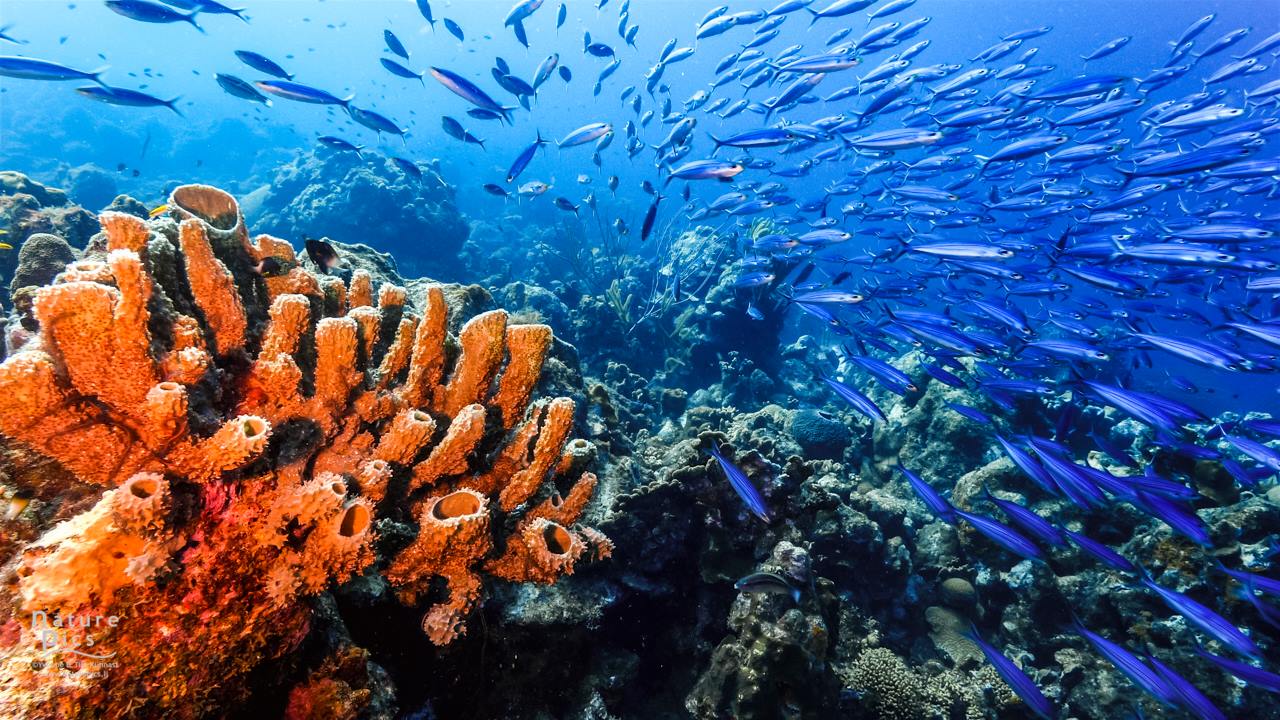 Note: Picture courtesy of Dive Curacao, taken by Nature Pics. https://www.divecuracao.info